Transform Yourself Into a Vintage Vixen!
Vamp up your look with some seriously sexy style courtesy vintage-inspired lingerie.
The pinup craze is nothing new, and what's more, it's not going anywhere. The look celebrates all things feminine, but that doesn't mean shrinking violet. Nope.
This look is fierce and hot.
Vintage vamp is universally flattering, the styles work for all shapes and sizes of women.
We show you how to unleash your inner pinup girl so you can tease your self or your partner.
1. Cover Up to Be Coy
The vampy look is all about smoldering sex appeal, but that doesn't mean showing a lot of skin.
This lingerie look features full-coverage bras and panties.
Those long-line bras and high-waisted panties help to enhance those dangerous curves, whittling the waist, shaping the bust, and cupping the rear.
Left: Go retro with full-coverage options that hint and the sexiness beneath, like this Satin Noir via Dollhouse Bettie.
---
 2. The Stocking Exchange
Forget modern thigh highs, for true vintage appeal, go for full-fashioned stockings. The feel is pure luxury and the look is simply stunning. With or without the seam up the back.
Why are these so sexy?
One male friend got positively misty eyed while reminiscing about the experience of feeling where stocking ended and skin began. It was a little naughty, like forbidden fruit, tantalizing, tempting, and right there.
Right: Fully-fashioned stockings and classic lingerie are undeniably sexy and stylish!  As if these Dana Glamour Stockings from Secrets in Lace isn't proof enough.
---
3. Get Girdled
Who said shapewear can't be sexy?
Classically styled girdles aren't the flesh-toned spandex creations of today.
These lace-trimmed pieces will get motors running and eyes popping.
Designed to create an hourglass figure even when nature hasn't provided, a gorgeous girdle is one way to show off your assets!
Left: Retro-inspired shapewear is anything but boring, and this All-in-One girdle from Girdle Bound demonstrates that shaping up, might just be a new phrase for your dirty talk.
---
4. Ruffle it Up
Put on your petticoat!
Whether you wear these pouffy slips under your dress, or as a layer in the bedroom, the look is ultimately feminine and flirty.
Flip your skirt and flash some leg. Twirl and let the flounces fly.
Modern crinolines are not scratchy or itchy, but they are marvelously fun and sexy!
Right: Layers of pouf add feminine charm and look amazing when you twirl! (Crinoline at Pinup Girl Clothing)
---
5. Accessories Matter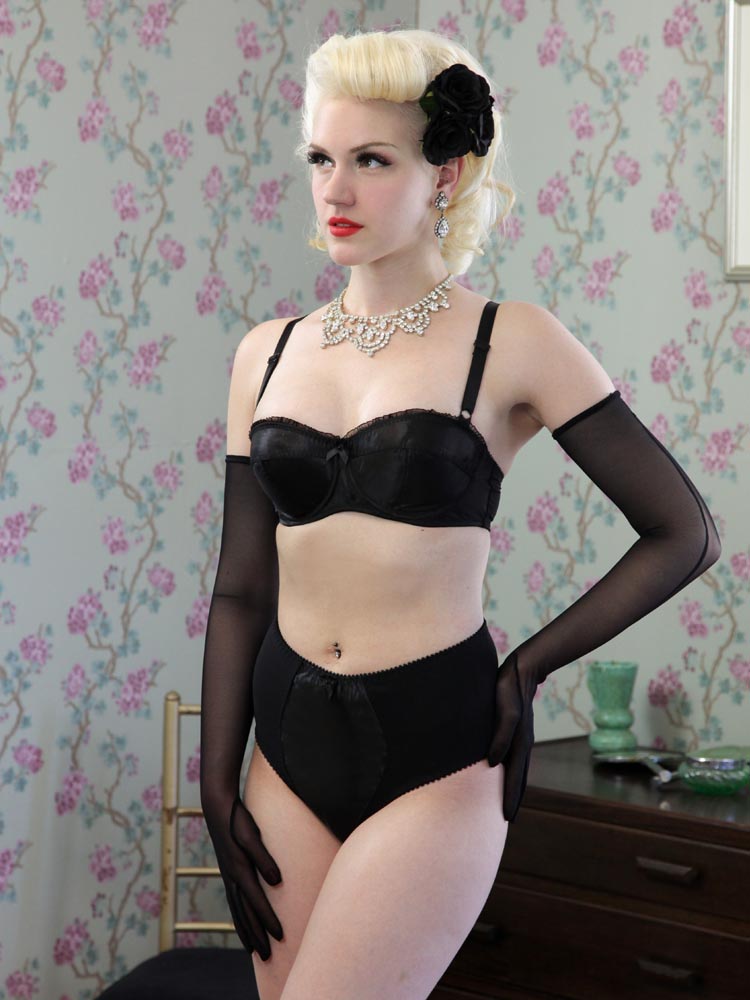 Go all out, grab a pair of your favorite heels, put on some red lipstick, and don't forget lots of mascara.
Gloves and boa optional!
Sweep your hair into an easy updo and tuck in a floral pin, or add some victory curls, or soft, tumbling waves and you've got an irresistible look that will make you feel like a vamp.
Left: Vamp it up with long gloves, super sexy when you slowly peel them off! Take inspiration with these slithery long gloves from What Katie Did.
---
Your Tickle Me Pretty Online Vintage Resources
These aren't the kind of pieces you find at the local mall's lingerie shops. Though as the popularity grows, more and more lines are carrying vintage-inspired lingerie. These are tried and true resources that cater to pinup girls today.
---
Tickle Me Pretty Tips & Tricks For Velcoming Your Vintage Vixen
New v. Retro Stocking Sizing: Fully-fashioned stockings do not stretch the way modern hosier does, so be sure to check the sizing guidelines carefully.
The Bullet Bra: Love the bullet bra look, but your boobs are rounded? You can get little cone-shaped inserts to fill out this classic, bombastic profile.
New-Old Vintage Shopping: There are plenty of companies creating vintage-inspired lingerie and shapewear, and a handful selling "new old" stock, which just means actual vintage pieces that were never sold or used. These can be terrific finds, but always check sizing info carefully!
Slow it Down to Speed it Up: When you take it all off, if you've got an audience, milk it for all its worth. Make a show of removing your stockings, rolling them down one at a time. Slowly undo each hook of that bra.
That Sexy Girdle Bump: If you wear a girdle, yes, you're going to have the "girdle bump" (that little bump created by the girdle's garter hooks). Don't worry about it. It's part of the appeal of the vintage look, and it's enough to get pulses racing in folks who know.